Trading A-Rod: To Be or not to Be?
Last night, on ESPN's Baseball Tonight, the subject of trading the Yankee third baseman was brought up. Several of the analysts claimed that this was the best action for Yankee management to take. Yankee fans have been booing Alex since the first day of this season, no matter what he does. He will never live up to New York's expectation, or play comfortably under such a spotlight.
Now, I don't know whether or not Yankee fans will ever truly except Alex, but he is desperately needed in New York and I'll show you why.
Let's look at Rodriguez's numbers this season:
99 hits ( 14th among major league third-basemen)
67 runs ( 2nd among major league third-basemen )
21 home runs ( T-2nd among major league third-basemen )
71 RBI ( 2nd among major league third-basemen )
.277 batting average ( 12th among major league third-basemen )
.389 OBP ( 8th among major league third-basemen )
.499 slugging P ( 10th among major league third-basemen )
Ok, so in comparison to other third baseman, Alex isn't doing too bad. In the offensive categories, he's right on top. The biggest thing I see here is his lack of hitting and getting on base- his batting average, hit total, doubles, and slugging percent are way too low for even an average thirdbaseman.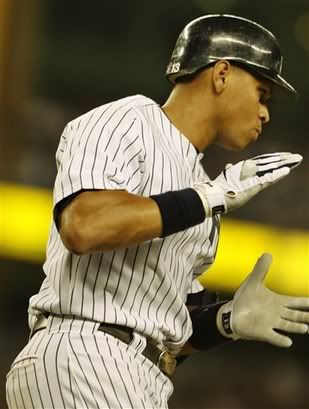 Now let's look at his offensive numbers last year:
.321 batting average ( 6th in the majors)
48 home runs ( 2nd in the majors)
124 runs (1st in the majors)
130 RBIs ( 3rd in the majors)
This year, he's on-pace for these numbers:
.284 batting average
37 home runs
120 runs
128 RBIs
Imagine the Yankee season without these numbers.
Yeah, the home run total and batting average are a bit low, but the runs and RBI totals are almost exactly the same as Rodriguez's MVP season! A struggling Alex Rodriguez is still better then almost any other player, playing at his best. Alex is also hitting above .300 with runners in scoring position this year, up several points from last year!
Defensively, we don't need to look at any stats- Alex is having an off-year. He's made five errors just this week, but that can be corrected by Larry Bowa.
But when discussing the option of trading A-Rod, there is a big problem:
Who could the Yankees possibly get to replace him? Who could take over as New York's third baseman, cleanup hitter, and MVP? Alex Rodriguez is one of the greatest players in the history of the game, how do you go about replacing him?
The only thirdbasemen even close to A-Rod's caliber of playing would be Miguel Cabrera of Florida and David Wright of the Mets. Wright is locked down with the Mets (they will never let him go), and Cabrera has shown stubborn loyalties to the Florida franchise.
So, all in all, trading away Alex Rodriguez would be foolish to an extreme....
Alex Rodriguez will show up soon (hopefully this week), both with the glove and with the bat. He played for years in Texas, so he should do well in the upcoming series with the Rangers.
Here are Rodriguez's numbers against the Texas starters:
Kevin Millwood: .455 BA ( 5 for 11) with a home run and a double
Adam Eaton: .667 (2 for 3) with a home run
John Wasdin: .348 ( 8 for 23) with four home runs!
Pretty nice... I expect good things out of A-Rod this week.
I do not think that anyone will take A-Rod off the Yankees' hands. Steinbrienner would have to pay over half his salary in order for anyone to take him. There are 252 problems with Rodriguez. He is being paid as the best player in baseball, he is not performing that way.

DOWN WITH THE YANKEES!!!!
[No options]