Yanks Rally Twice, Sweep Texas!
Yankees- 8, Rangers- 7
-
W- Chacon ( 5-3)
L- Otsuka (2-4)
S- Rivera (25)
This was the second multi-rally game the Yanks have staged against the Texas Rangers in '06. The last one ended on Jorge Posada's two-out, walkoff home run in the bottom of the ninth at Yankee Stadium. Tonight was almost as good.
In the top of the first, things were lookin' good for the Yanks, Andy Phillips had broken out of his horrendous slump ( 1-18 ) with a two-out, bases-loaded single.
2-0, Yankees ( 1st inn)
In the second, Jarett Wright gave the lead back- on a two-run double by the pesky, Kevin Mench. Mench is 6 for his last 7 against Wright... (ouch!)
2-2, tie ( 2nd inn)
For some reason the Yanks took the next couple innings off, making Texas pitching look incredible. Wright, meanwhile, gave up an RBI sac fly to Mench ( Grrrr!) and an RBI double to Blalock in the fifth. Wright only ended up pitching 5 and 1/3rd innings, giving up 5 hits, 4 runs ( only 3 were earned), a walk, and 3 K's.
4-2, Rangers ( 5th inn)
Ron Villone came in to take over for Wright, and did a very nice job. After being hit hard by Texas last night, Villone rebounded and pitched an impressive 2 innings. But the Yankee batters refused to hit the ball with authority...until the top of the eighth.
4-2, Rangers (7th inn)
Francisco Cordero came in in the eighth to face the heart ( or actually the liver) of the Yankee lineup. Alex Rodriguez worked the count full, and then blasted a rally-starting solo homer to dead center field. Bernie walked, Phillips singled ( for the third time), and Melky strode to the plate, prepared to bunt. Fortunately ( as it turns out), Melky does not know the fine art of bunting. Eventually, after fouling off two balls in the attempt to bunt, he gave up, and slapped a two-run double to left field. It was great, not only to see a clutch hit out of New York's rookie, but to see him hit the opposite way so well ( missed a homer by a couple of feet). Hideki Matsui took a long time getting used to the notion of going the other way, especially for power. Anyway, Melky later scored on a wild pitch...
6-4, Yankees ( 8th)
I thought the ballgame was over. Farnsworth had been warming, along side Mike Myers. But to my surprise, when the commercials ended and Gary Matthews, Jr. was walking up to the plate, T. J. Beam was on the mound for New York. ???????? His "slim" 12.38 ERA, 15 hits ( 11 runs) in just 8 innings pitched, and 4 homers were not to be coveted. ( Later I learned that Farnsworth had pulled his back or something, but should be ready to pitch by Friday. ) But why Beam???? ( And why is Matt Smith still down in triple A???....sorry...)
Beam couldn't throw strikes, which is a problem for a young pitcher who wants to have a major league career. He walked Matthews and served up a ground-rule-double to Ian Kinsler. Torre stormed to the mound, glared at Beam, snatched the ball, closed his eyes, and handed said ball to Scott Overused Proctor. Genius. Proctor promptly gave up a two-run single and then 3 consecutive bloop base hits ( one drove in a run). Bases were loaded and nobody was out.
7-6, Rangers ( bottom 8th)
Simmering, Torre came back out to the mound, shuddered, and handed the ball to Shawn Chacon. I changed the channel to watch the rest of an old Star Trek episode, but when I returned to YES, the Yanks were batting in the top of the ninth- the score was still just 7-6! It seems that Chacon wriggled his way out of the jam, giving a most impressive performance. He struck out Mark Derosa, and then got Brad Wilkerson to line back to the mound for a 1-3 double play.
7-6, Rangers ( 9th)
The captain got on base ( as he does best), and watched Jason Giambi ( who had been 0 for 4 on the night) launch a mammoth shot into deep right field. Mariano Rivera trotted out in the bottom of the ninth and shut the door ( as he does best).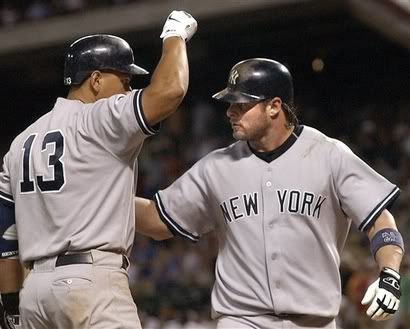 8-7, Yankees!
How did this happen? The key play of the game, was Chacon getting out of the bases-loaded, nobody-out jam... If he gave up one hit, the Rangers would easily win the ballgame. Is this a sign of Chacon coming back to form? Let's not get excited... but it's gonna be interested to see who gets the start on Tuesday.
Oh, and I forgot to mention that Sal Fasano made his Yankee-debut tonight. He went 1 for 3 at the dish with a single and a sac bunt.
Yankee Player of the Game: Shawn Chacon
[Comment(s) (0) | Permalink]